Budget Android Phones in India - 2011
Android ended 2010 as
the largest
operating system in the world. While it was hard to find the top-selling Android phones in India last year, this is not the case any more. HTC, Motorola, Samsung and even Sony, have launched a wide portfolio of Android handsets in India.
In this post, I am going to deal with budget Android phones. As per my definition, a smartphone which costs less than Rs. 15,000 is a budget phone. The high end or premium phones mostly cost Rs. 25,000 - 35,000. In fact, Rs. 35,000 seems to be the ceiling for a smartphone today.
A smartphone operating system is best showcased on top end hardware. Keeping this in mind, there are some conscious trade-offs that you make when you buy a budget Android phone.
Slower processor speeds (average is 600 MHz) are on offer at this price and make the phone interface feel a bit sluggish. It can also limit the apps and games that can be used on the device. Also, it seems that at this speed Adobe Flash 10.1 will not work, so flash videos are disabled on most budget handsets including the Andro and the LG Optimus One. For many people, Flash is the big reason to buy Android, so it's a bit of a pinch to be without it.
Smaller screen/ display makes browsing and even typing in landscape mode difficult. On an average, screen size is 2.8 inches and that is pretty small!
A resistive rather than capacative touch screen which can make the entire experience of navigation less than enjoyable.
Smaller battery which may lead to less battery life.
In the past, budget handsets would be loaded with old and obsolete versions of Android. Thankfully, that trend is changing now.
If you are willing to live with some of these limitations, then it is possible to enjoy a smartphone experience even if your budget is less than Rs. 10,000. Also some of these phones offer you a treat that is only available on the android flagship nexus phones - they carry an unskinned/ stock OS and you can directly install Google's updates without waiting for your handset manufacturer to modify and release an update.
1. Micromax Andro
At Rs.7000 or less, Micromax Andro, positioned as your 'first Android phone' makes immense sense in a world where top end brands like HTC Desire and Samsung Galaxy are priced at Rs. 25,000 and above. I can see the Andro being a huge hit with the young crowd. It has a respectable (at the price) 600 Mhz processor, good battery life, it's 3G enabled and it runs Android 2.1 (Eclair) which may not be the latest-latest but it's fine. It will still give you all the flexibility of an Android phone to download games and apps, sync your gmail, install widgets on your homescreen etc. With all this, you should be aware of the one big trade off you will make. The touchscreen is resistive which will make it appear less responsive and sluggish especially if you are already familiar with capacitive/ multi-touch screen. So if you want the 'apple like' smoothness of touch interface, this handset will not give you that. Also it's a 2.8 inch screen. That's a small piece of real estate and won't let you enjoy browsing to the max.
You can read the review by Gaurav Shukla at
AndroidOS.in
2. Huawei Ideos
Image Source : CNet
You probably know Huawei as the company that made your Reliance NetConnect modem, rather than a cellphone manufacturer. The Ideos has met with a lot of positive feedback and attention in the international market. For one thing, it is Google branded and Huawei claims they worked closely with google to develop it. It has 3G, and it also runs the unskinned Android 2.2 (FroYo) OS - so you can upgrade it whenever you want. Unlike the Andro, it has a capacative display, which makes the touch interface much smoother and faster, though screen size is still limited at 2.8 inches. However, it is bogged down by a slow processor (528 mhz)
The Ideos sells at Rs. 8500 in India. And I would feel that the capacitive touchscreen alone, makes it a more worthwhile buy than the Andro, unlesss you are on a terrifically tight budget.
Review of the Ideos on
Pocket Lint
3. Dell XCD28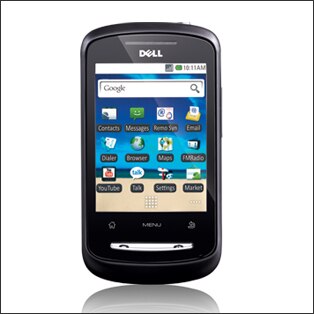 Image Source : Dell India
At Rs. 8000, this phone faces some stiff competition from the two listed above. It has the same 2.8 inch screen, but a resistive display and runs Android 2.1 It has a 600 Mhz processor like the Andro, but a smaller battery (and low battery life). Incidentally, the buzz is that this phone and its bigger more expensive sibling the XCD35, are basically re-branded ZTE handsets. I think the Andro and Ideos are better bang for your buck.
4. LG Optimus One/ P500
Image Source : TechRadar
This is a blockbuster phone - over 1 million handsets sold globally already. It crosses the Rs. 10,00 barrier and takes you to Rs. 13000. This is also a Google branded handset like the Ideos, with Android 2.2 (FroYo). For the higher price, you get a (much needed) 3.2 inch capacative LCD touch screen with very good resolution. And a large capacity 1500 MaH battery with a good life - this is a rarity on the higher end power sucking Android handsets and it's a definite advantage in favor of this phone.
On the flip side, LG has skinned the operating system so you may not be able to update FroYo. That may not be such a big deal. And you still cannot play Flash videos on this device.
Here are links to comprehensive reviews of the handset by
Techtree India
and
GSMArena
5. HTC Wildfire
Available at Rs. 13,500 on FlipKart, for me it's a close run thing between the LG Optimus One and the Wildfire. HTC introduced this phone to replace the older HTC Tattoo which had a resistive touchscreen. The Wildfire has a 528 MHz processor, a 3.2 inch capacitive touchscreen and a few bonuses over the other budget handsets. It has a 5 MP camera instead of the standard 3.2 MP that comes fitted on phones in this class. It also has 384 MB RAM instead of the standard 256 MB on other budget phones - this is a valuable addition to speed. However, balance this against the fact that you are stuck with Android 2.1 on this device till HTC sees fit to upgrade it in India. Other countries have just started to get the update through their operator and it's a 9 month old handset.
So what is the verdict? If I were looking at a budget phone, I would probably pick either the Ideos or the Optimus One. Battery life, larger display and capacitive touchscreen are the key deliverables that I would look for in a budget, because in the long run, they make the usage experience better. The later the version of Android, the better - I think chances are very low that you would go through the nuisance value to upgrade it. Unfortunately, it seems that you cannot get a faster processor in this budget range - that is something that I would have paid more for.
I must confess that my dream budget Android phone is my Samsung Wave stripped of bada and rooted with Android Gingerbread. Guilty of pointless fantasising. It won't happen for sure. But I sure wish it would....