Nostalgia trip - all the cellphones I have ever owned :)
It's January 2011 and approximately a decade since I bought my first mobile phone. Looking back, it's amazing to see how much technology has changed in these 10 years!
This is a companion post to the piece I wrote about
portable music devices
that I have owned through the years. I have a lot of fun making these nostalgic, trip-into-the-past kind of posts and I hope you enjoy them too!
Cellphones were around in 1998, when I just started working. I remember doing a market research project for BPL Mobile which was then India's leading cellphone company. The outgoing call rates were then Rs. 16 to Rs. 25 per minute, depending on which plan you were signed up for. Incoming call rates were Rs.8 to Rs.12 per minute. Needless to say, only businessmen/doctors/ lawyers etc. who really needed connectivity, would buy cellphones and of course, so did the ultra-rich status-seeking types. Handset costs were also high - initially Motorola and Ericsson handsets were available at prices starting from Rs. 10000.
1. My first cellphone - Nokia 5190 (2000-2003)
I think I bought my first cellphone in 2000. It was a Nokia 5100 (5190 in USA) for which I paid the princely sum of Rs. 5000 and I was very kicked with it. Incidentally, my first operator was Orange and I paid Rs. 6 per incoming call and Rs. 2 for outgoing calls.
Nokia started
making
the 5x series in 1998 and discontinued it in 2001.
My first handset weighed a ton (180 gms, to be precise) and when I lovingly encased it in a clear plastic cover, it looked like a TV remote. It had no features other than a calculator and alarm clock. But I remember that I first started playing Snake on this phone and it was an addictive experience :) Like all Nokia phones through history, it had an awesome battery life. And yeah, the legends are true - no matter how many times you dropped it, it would not break. You can check out the detailed specs on
CNet
In 2003, I passed this phone to my mom and she kept it for another 4 years.
2. My second, sleek cellphone - Nokia 3310 (2003-2007)
I bought this phone in 2003 and I kept it till 2007, when I gave it away to my mom, who reluctantly upgraded it 2 years later. So the life of my first two cellphones was 7 years plus. Today, I'm not sure if I even want to keep a cellphone for more than 2 years. Life changes....
Compared to the earlier phone, this one weighed a modest 133 gms only. I remember being excited to buy it because it was so small and light, and I could even hang it around my neck when I was out for fieldwork! Talk about tying a millstone around your own neck :). I cannot remember the price, but I think it was still around Rs.5000.
Anyway, the other superior features of this phone included a monochrome graphic display on the screen, screen saver and welcome message on start up. And it would also have a silent/ vibrate mode. Needless to say, I was very kicked with all these small things. Here are the full specs from
GSM Arena
.
3. Sony Ericsson k5110i (2007-2008)
My first departure from Nokia land yielded mixed results. I certainly got a sleeker, more feature-loaded handest than I would have gotten from Nokia at that price range. And when I saw the SE User Interface, which was vibrant and youthful, I realised how much Nokia UIs were lagging behind. Actually, I think the writing was on the wall for Nokia way back then. Although their lower end handsets were selling on brand name, young people had tonnes of more vibrant choices from Motorola and SE in the same price range. Today, Micromax etc. perform the same role. And it was exactly this factor that tempted me away from Nokia, though I love Nokia phones!
Anyway back to the phone. I had posted this review of it on
mouthshut
around 6 months after buying it. I was not very happy, but I was by then ready to upgrade my phone within a year without regrets. However, it was the first, in fact the only phone I have ever owned that I had to take to a repair centre. And I am afraid that I have not bought a SE phone after that.
4. Nokia 3110c (2008-2009)
This has to be the most nondescript handset I have ever owned because I cannot remember anything about it. Except that I became very bored and changed it within a year. Nothing was wrong with it, it just bored me. I can't be bothered to even search for a picture for this one!
If I remember, the only reason I bought it was because it was under Rs.5000 and it was a Nokia. I was running away from my trouble-ridden SE handset, back towards reliability.
5. Nokia E63 (2009-2010)
When I bought this, I was eyeing a BlackBerry, but I was put off by the high price premium and the fixed data plans offered with it. I saw the superb reviews of this handset and it became my next choice.
This has to be my favorite out of all the handsets I have owned. It represented many firsts for me. First time I spent more than Rs.10,000 on a cellphone. First QWERTY phone - and Nokia makes a fab QWERTY keyboard. First phone with push mail. I had been eyeing this for some time, but I did not buy it until the prices became reasonable. I eventually bought it at Rs10,500 (exchange price). Anyway, this handset made me fall in love with Nokia all over again. Much love. It was a sturdy beast with a fabulous battery life. I gave it away to my Dad who is happily flaunting it on BSNLs 3G network. It pinches that we do not have 3G yet in Mumbai.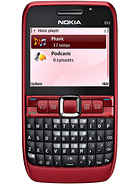 Incidentally, this two year old phone is still available at Rs.8500 and I think it's a great buy, better than many later handsets that Nokia has launched. It's a solid budget QWERTY. Specs from
GSM Arena
.
If I loved it so much, why did I give it away within a year? Too many new things beckoned - better hardware, new user interface, devices with more internet-friendly operating system. The world of apps and widgets.
6. Samsung Wave (2010-current)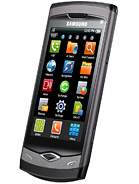 I had my eye on Samsung Wave from when it was announced. At my budget, I could have bought an Android with mid-level hardware or the Wave with top-end hardware and the dubious bada OS.I guess my choice taught me something about myself - given a choice between hardware and software, I went for the hardware.
You can read about
why I bought the Wave
. I am still happy with my phone, but now I realise that I miss two things - QWERTY and a larger screen. Looks like the next phone needs to have both!
After writing this piece, I realised a few things about my cellphone purchase behaviour
1) I have always had a budget threshold, linked to how much value I attach to a cellphone in my life. Initially I would not pay more than Rs.5000, then it was Rs.10,000 and now it is Rs.20,000. It was email and internet access that pushed my budget up, as well as acknowledgement of the increase in processing power and hardware specs.
2) I have less value for durability over time. The most expensive phones I bought, were the ones I discarded (or plan to discard) soonest. This is linked to my needs and demands from cellphones increasing, as well as the flux in the category
3) I always buy below the curve, and wait for the price of best selling models to drop before I get them.
4) I have behaved very much like an average cellphone user, hanging onto a dumbphone for a long time, then upgrading to a better feature phone, then a business phone and then a sorta smart phone. Where are my geek creds here?! :)
4) Out of my ten years of cellphone usage, I have been loyal to Nokia for 9 years! I have never had a bad experience with them till date. Yet, unless they get onto Android, I don't think I will buy another Nokia phone, and I feel bad about that. Operating system+brand will drive my next purchase and brand alone is not enough to take a decision.