mobile phone for senior citizens
This post has taken me a long time to write. Since the last few months, I have been looking for phones for my grandparents, and also been asked by friends to recommend a phone for other elderly people. While I spent time browsing phone shops, it struck me how most large handset manufacturers have inexplicably neglected this demographic. You can get hundreds of fancy cheap phones, but so few that are thoughtfully designed for an older user. Here are the basic requirements for any phone for elderly people:
1. Large screen/display
2. Large Font sizes
3. Discreet and large sized keys which are easy to press
4. Extra loud volume of ringtone/ speaker to help people who are hard of hearing
5. Long duration battery
6. Simple operating procedure (it should not be very easy to bar outgoing calls for instance!)
7. Voice-operated commands and dialling
8. Can be located/ blocked easily if lost
9. SOS call facility
10. Not expensive, durable and can survive a few falls!
When I went with this list, a helpful salesman pointed me to the Samsung 'Guru'. The Guru is a low cost dual-sim range from Samsung, but the cheapest model 1175 in this range is a single sim dual band GSM phone. What impressed me about this handset was the truly LOUD dual speakers (enough to turn me deaf), the large keys and the phone tracker facility that will let you trace your lost phone. Additionally, it has a giant 1000 mAH battery which has been going for 3 days now and is still at 75% after light use. I am quite impressed. Samsung does not provide bluetooth on this handset, but it does have upto 6 daily pre-set alarms (useful if you want to set a reminder for medications), an inbuilt torch, FM radio and Indian languge support. It retails at Rs. 1800 and is a good option for senior citizens. If I find any more, I will let you know!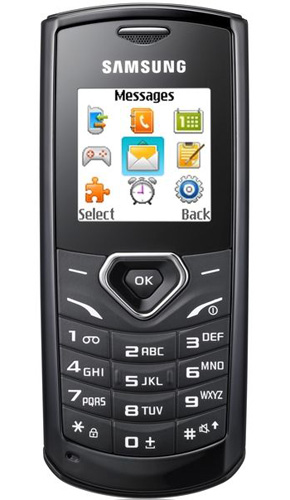 (image from
Fonearena
)