Offbeat handsets at decent prices
It's always been frustrating for me that so many good handsets come late to the Indian market, and then they are way over-priced. I was walking around Croma yesterday and came across a couple of good deals on good handsets. They are not the best or latest phones, but they are fantastic value for money at the price and both will offer you solid performance. As a co-incidence, both are also touch+QWERTY phones!
1) Motorola Milestone (see the full specs here)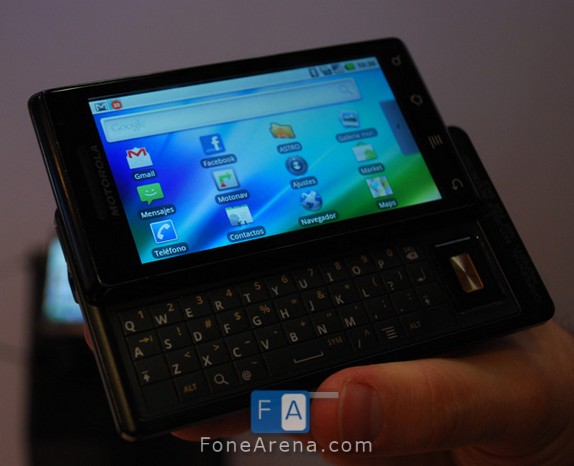 (picture from Fonearena)
The Milestone is the GSM, international version of the much-hailed Motorola Droid which was launched in US in 2009. It has only recently made its way to India. And it is currently selling in Croma Mumbai at Rs.22,000 which is a great deal.
The pros for the device are
1) It's the best Android QWERTY phones available in India as of date. It runs Android 2.1. There are very few of those, for people who prefer typing to touch screen
2) It's a great phone for people who do a lot of web browsing, typing, mailing; the large screen and keyboard will give you a good user experience
3) It's a matter of opinion, but I love the big, chunky design. A lot of phones including the Blackberry Torch and the Nokia N8 are now going retro with the big screen look, but the Milestone is like industrial macho :) This does not detract from the fact that the QWERTY keypad is very thin, and it's sleek for a slider phone. Build quality is solid too.
4) At this price, it is a solid phone. If it comes in under 20,000 on exchange of your old phone, it's a good deal. I would not have recommended it if it was Rs. 25000 plus
There are some cons too
1) The hardware has been outpaced. The Milestone has an ARM A8 600 mhz processor while most phones today have 1 gig. It also sports a TFT screen as opposed to the newest Super AMOLED technology of Samsung. What is universally agreed is that AMOLED screens improve battery life, give better blacks and brighter visibility indoors. Not everyone finds the color saturation on AMOLED to their taste, and most people say that TFT performs much better under bright sunlight. But the bottomline is that there is a newer technology.
3) It accepts only limited video formats (no DivX!) so you will have to convert videos before playing
4) Despite the huge size, the screen is only 3.7 inches and most touchscreen phones are now 4 inches. From experience I can say that every inch of screen makes a HUGE difference to your user experience.
5) Reviews have been mixed on the Motoblur interface that Motorola has layered onto Android, with some feeling that the HTC Sense UI is more intuitive and better.
The newer version, Milestone 2 is due for launch in Q4 2010. This is the international counterpart of the US/CDMA based best selling DROID X. The new version will run Android 2.2 and has upgraded hardware, notably a 1 Ghz processor. But it will still be way behind the new Droid 2 (CDMA) phone that will debut in the US soon. Basically the Milestone (GSM) version is still one iteration behind the Droid. Given that, if you want to own a Moto Android on a GSM network, the Milestone seems a good enough bet.
2) Nokia N900
Coming in at Rs. 23,000, I would recommend this to geeks. It's not often that you get the combination of an offbeat, programmable, open source device from a company like Nokia. It's easily one of the most powerful phones on the market today. It's interesting that when you visit
the N900 page
on the Nokia website, they are describing it as a 'mobile computer'. It's truly a tablet first and a phone later!
Pros
1) The Linux based software has been praised for delivering a smooth and stable user interface and experience. If you really wanted, you could even program this phone! At least from a software focus, obsolescence will not be an issue with this phone. Already a new version of Maemo is out.
2) With a 3.7 inch resistive screen, stylus and QWERTY keypad, there is a wide range of inputs to keep all kinds of people happy, as well as a generous screen to see what you're doing.
3) Although the hardware specs are outdated, the interface is smooth and fast. In fact a lot faster than some phones with more updated hardware.
Cons
1) Do you remember the old and popular Nokia Communicator series? Not everyone wanted to walk around with a brick. The N900 has a similar brick like quality. Having seen it in person, I can say that there are several bulky phones including the BB Torch and Moto Milestone, that look better.
2) The App Store for Maemo still has to catch up with the likes of Android and Apple. But that should not be an issue as there is a strong developer community for this platform
3) The crux of the issue is that with this device, you are out of mainstream territory and action on it. Today the operating system dictates the ecosystem that the phone will be on, and the ecosystem drives your user experience.