Using Snaptu on my Nokia E63
Ok, so we live in a 3G-less country (at least till October). And there's not much you can do on a painfully slow GPRS connection on your phone right? Especially if it's not an Android-powered phone or an iPhone with those cool apps, or a Blackberry.
Actually, you can do quite a bit even with a smartphone which is no longer a smartphone (like my Nokia E63) which runs the now-outdated Symbian S60 3rd edition. For the past 6 months, I have been using Snaptu on this phone and I am quite pleased with the results.
Snaptu is free to use and install. If you use Airtel, you can download it to your phone from the App Store. Otherwise point your mobile browser to m.snaptu.com to start the download.
Snaptu is a strange animal. According to Ewan Spence's
review
at All About Symbian, it is a Java based app that launches a home screen with a bundle of web services - Twitter, Facebook, YouTube, news feeds and dozens of others. It has an attractive tiled interface which is pretty cool looking and somewhat like an iPhone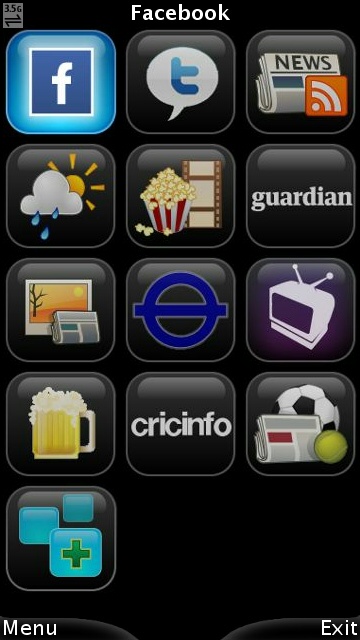 I like the convenience of Snaptu which puts most of the major sites that I use onto a single screen; Snaptu is also updated regularly and you should check for newer sites to add. Now that I have it set up to my satisfaction, I don't need to open a browser on my mobile. I just go straight to the Snaptu app and then I have this window where I can choose what I want to open.
When you click on say, Facebook or Twitter on Snarptu, it does not just open the website, it also renders them in a way that is small-screen friendly and consistent in appearance. I have learnt from bitter experience that all sites do not render easily or well on my mobile browser. Snaptu provides a working, clean (if basic) interface that I can live with and checking my FB status or updating my Twitter status is a breeze even on a slow net connection. Here is an example from Ewan's review showing how Twitter is rendered on Snaptu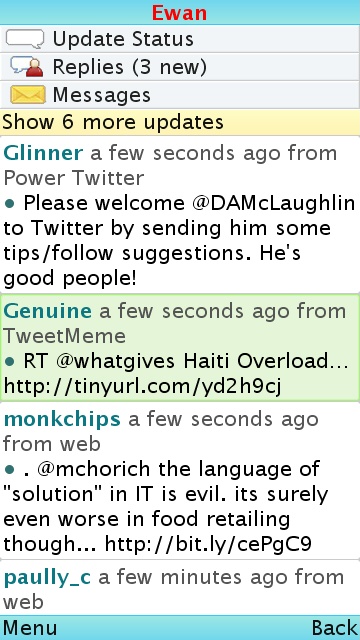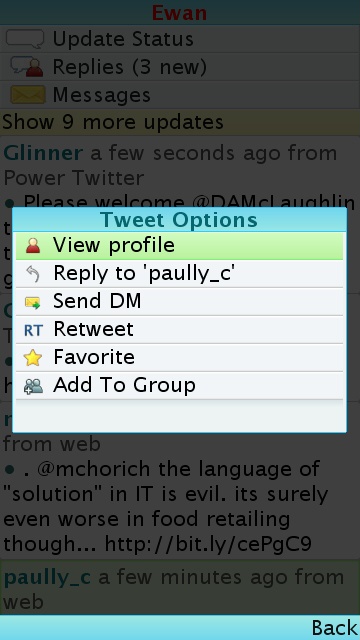 There are tonnes of links on Snaptu that I use regularly including youtube, reuters news service, picasa, cricinfo and my favorite tech sites like engadget, ars technica and mashable.It is reliable and stable and has never hung on my phone. It renders sites fast and efficiently. It may not be the most sophisticated tool for interacting with sites like FB or Twitter, but it is definitely convenient and is one of the most often used apps on my phone. Judging by the Nokia user comments on Allaboutsymbian, though Snaptu is not designed to use with Symbian, it works pretty well across a range of Nokia handsets. And the beautiful words - it's free to use. Recommended for anyone with a lower end phone who wants simple and convenient access to the web.