High spec ultraportable laptop - Dell Vostro
If you run a small business/home office like me, you will want a laptop that balances portability with decent specs. At the same time, you will want hassle-free service and repair, since you would have to take care of it yourself.
I regularly browse the Dell website and it seems to me that currently the
Vostro range
that they are offering in India is the best combination of specs and portability - at the right price. While Vostro is positioned as a small business range, there is no reason why you cannot purchase it for personal use; in fact you get the added benefit of Vostro service which is extremely prompt.
The range under Vostro which is getting my vote is the
Vostro 3300
. At a price range from Rs.35,000-Rs.50,000 (excluding tax) you can get an iCore processor, 3-4GB of RAM, a 13 inch screen, upto 500 GB hard drive and a machine which weighs in under 2 kg. Oh, and Dell finally has re-vamped color options, giving you a choice of silver, red or brown in an aluminium casing. Don't forget to add a 3 or 5 year Complete Cover Dell warranty to your purchase and remember to negotiate HARD to bring it down. It
helps
, as past experience has shown me. Laptop repair is an expensive proposition.
If you can stretch your budget, opt for at least the i5 processor, and get the extra 1GB of RAM for greater power. But even the base spec of i3/3GB RAM should be fine for running MS Office. More than fine..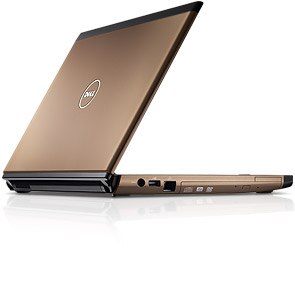 This is the laptop I would buy today, if I needed one. Do note that this may not be the machine of choice for creative people - for fast speeds on Photoshop or any editing software, you would need at least 4 GB RAM and 1 GB graphics card, and probably you would be better off with a bigger screen.
The catch is that Vostro is not available off the shelf, either at retailers or online. The wait period is approximately 2 weeks (when I last checked in Croma, Mumbai) and may be more. The default battery is 4 cell and users have complained of low battery life (2.5 hours). And the i3 variant does not have bluetooth which is inexplicable. If you travel, look at option of a 6 cell battery or a second 4 cell. And the HDMI port is missing but this is less of a surprise on a business oriented laptop